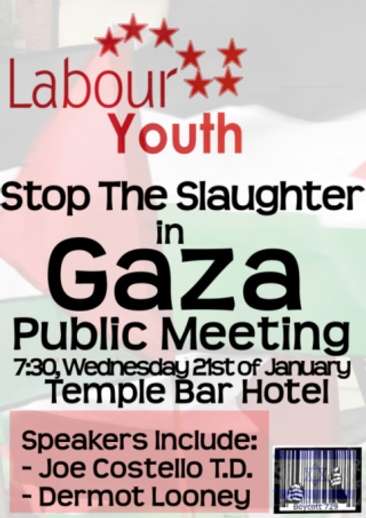 I am speaking tomorrow night at this meeting. Please make it along if free. From Labour Youth...


Labour Youth will be hosting an open meeting this Wednesday - tomorrow - to discuss campaigning against the massacre taking place in Gaza.
While there is a fragile ceasefire in place, it is vital that Ireland and the international community put pressure on Israel to ensure an end to their beligerent occupation of the West Bank and their blockade of the people of Gaza.
The speakers at the meeting will be: Joe Costello T.D., Dermot Looney (Tallaght local elections candidate) and the meeting will be chaired by Maria Parodi (local elections candidate Ringsend).
The meeting takes place in the Temple Bar Hotel on Fleet Street, Temple Bar (just off Westmoreland Street) at 7.30 pm
Labour Youth is calling for:
* An end for all US financial and military aid for the Israeli army and government.
* An end for all contact between the European Union and Israel including trade until Israel adheres to international law.
* An immediate withdrawal by the Israeli army from Gaza
* An immediate restoration of the ceasefire which was broken by the Israeli army with an armed assault of Gaza on November 4th killing six Palestinians
* An immediate end to the blockade of Gaza to allow Palestinians in Gaza access to food, medical supplies and the ability to trade
* The Irish government to expel the Israeli ambassador in protest at the war crimes been committed by the Israeli government until such a time as they abide by International Law
* A boycott of Israeli goods and institutions
* An evacuation of settlers from H2 in Hebron
* An end to the construction of illegal settlements by the Israeli government within the West Bank